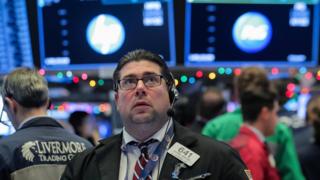 US share indexes fell by more than 2% on Friday, as uncertainty continued to roil financial markets.
The declines extended losses from earlier in the week and hit nearly every sector, led by technology firms.
The Dow Jones index and S&P 500 both tumbled about 2.3%, while the Nasdaq fell more than 3%.
The falls came as charges were outlined against a top Huawei executive, while a weaker-than-expected jobs report renewed concerns about economic growth.
US markets had performed better than expected in 2018, hitting record highs earlier in the year.
But investors expect growth in the US and globally to slow in 2019, a deceleration worsened by new trade tariffs and rising interest rates.
The cluster of concerns has cast markets into turmoil.
On Friday, the slowdown in jobs monthly growth raised questions about the path for interest rates, while the hearing for Huawei's chief financial officer further fanned worries about US-China trade tensions.